HRH The Prince Philip, Duke of Edinburgh
The Worshipful Master, Officers and Brethren of Athol Lodge No.74 in the Masonic Province of Warwickshire, send their sincere condolences to Her Majesty The Queen and Members of the Royal Family on the Passing of His Royal Highness, The Prince Philip, Duke of Edinburgh.
His Royal Highness, The Duke of Edinburgh started his life in Freemasonry in 1952, at the age of 31.

He was initiated into Navy Lodge, No. 2612, on 5th December. On 6 March 1953 HRH Prince Philip progressed to the Second Degree of Freemasonry, before advancing to the Third Degree on 4 May 1953.
The United Grand Lodge of England (UGLE) issued his Grand Lodge Certificate on 7 May that same year and he has remained a member to this day.
Athol Lodge No.74 Virtual Burns Night Saturday 30th January 2021
Over 20 members, partners, and guests took part in a light-hearted Burns Night, which involved toasts to Robbie Burns and a Scottish themed quiz, and lots of fun which is just another example of our Worshipful Master and his wife Claire keeping all our spirits up with yet another enjoyable social event.

Athol Lodge No.74 - Weekly Fitness Training.
Athol Lodge members and their partners took part in the first of a number of online weekly fitness training sessions at 9am on Tuesday 2 February 2021, and will continue every Tuesday morning at 9am.
The training is free of charge and led by Bro. Martin Carver, a professional fitness instructor and a former Army Senior NCO from our friends at White Ensign Lodge, the sessions last 40 minutes, suitable for all ages and fitness levels.
All brethren are welcome, and for further information please contact our Secretary, W.Bro. Gary Askey.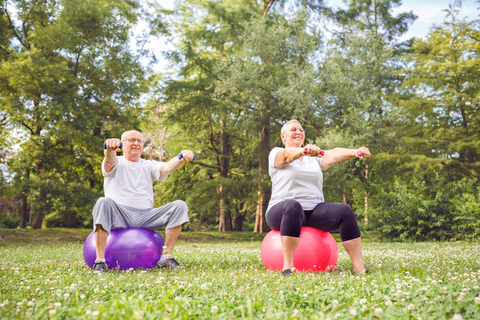 Athol Lodge Virtual Installation Festive Board
Saturday 9 January 2021
In view of the current crisis with the Covid 19 pandemic, Athol Lodge, for the first time ever are hosting an Virtual Installation Festive Board for our members and masonic guests.
W.Bro. Anthony Wright this year's Worshipful Master will continue in post during 2021 and will chair the meeting.
Saint Patricks Lodge No.295, the original founders of Athol Lodge in 1811 when they arrived in Birmingham as the 4/7 Dragoon Guards will be represented by the modern-day members of this lodge, the oldest travelling lodge in the world who are linked with the current Royal Dragoon Guards based in Warminster, Wiltshire.
Our friends from our twinned lodge, the General John J Pershing Lodge in Maastricht will also be attending together with our friends from White Ensign Lodge from Worcestershire, and others from Scotland and nearby provinces.
"Over 50 freemasons from as far afield as Scotland, Ireland, Canada and Holland came together to celebrate the virtual installation festive board of Athol Lodge including three military lodges from Saint Patricks Lodge.No 295, the founders of Athol Lodge, White Ensign Lodge No.9169 and General John J Pershing Lodge from Maastricht, Holland.
A wonderful and memorable evening was shared and many new friends made"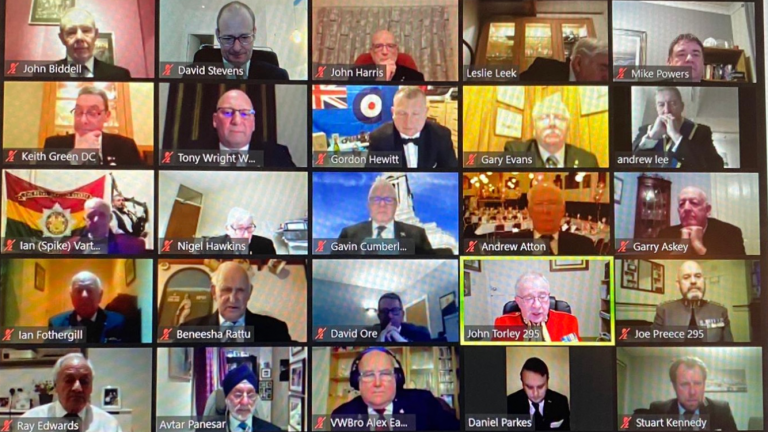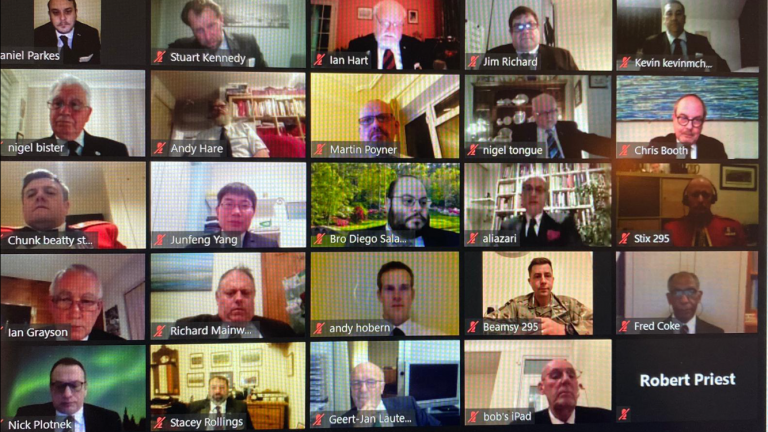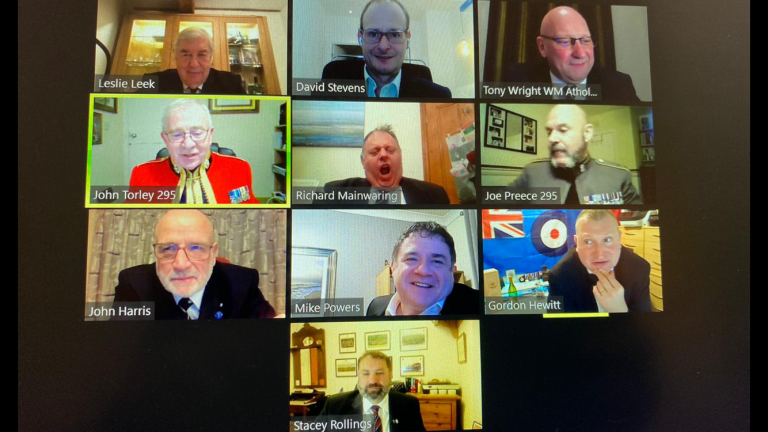 Lodge Virtual Events During Lockdown 2020
Athol Lodge have a virtual meeting every Wednesday evening which is a general chat and making sure everyone is Ok.
Lodge Virtual Quiz Nights
Here's the screenshot of the participants in last nights Athol Lodge Quiz Night – 22nd May 2020.
We had a great time, loads of fun and banter in between doing quiz questions, scavenger hunt and identifying objects from very close up photos. We also invoked points deductions for "lockdown haircuts", anybody with a beard and invoked virtual demotions/promotions of officers within the lodge if their quiz questions were too hard!! We all picked up on the point of keeping in touch, especially with those having already been in isolation/shielding now for many weeks and that such evenings go some way to giving people social inclusion, hope and relief!
Therefore even though we have a break in our Masonic meetings we have decided to keep up these evening events every other Friday and all are free to join and can contact myself at secretary@athol.org.uk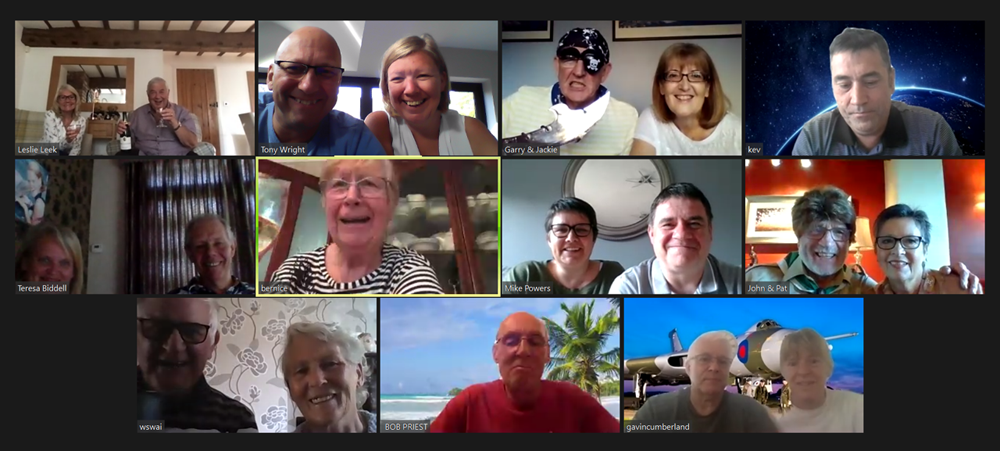 We held a smashing inaugural Athol 74 Quiz night on Saturday 9th May.

Our WM WBro Tony Wright (top centre of picture below) arranged it on Zoom.

The eventual winners being:-

My wife and I (top left).
Testing questions ranged from:-
Lyrics to Identify the song, from Mrs Claire Wright.
Current Affairs from Mrs Teresa and John Biddell PM.
Geography from Mrs Leslie and Mike Powers JD.
General Knowledge from Mrs Bernice Field
Random Questions from Mrs Jacqueline Askey and myself.
We will be holding another Zoom social event In two weeks time aside from our weekly Wednesday call with the Brethren on Masonic matters.

Athol Lodges first Virtual Informal Night
Brethren All

A good number of us and visitors joined in the call from our Worshipful Master to attend Athol Lodges first Virtual Informal Night tonight!

We enjoyed a very enjoyable two hours together which included:-

– Three quiz rounds, won by WBro Richard & Jenny Mainwaring;
– Grace from Bro Bob Priest;
– Ladies Song with WBros Richard Mainwaring on keyboards, John Biddell, Andrew Atton and Ray Edwards on vocals!
– Toast to Absent Brethren WBro Andrew Atton;
– Call for Charity WBro John Harris;
– Toast to WM WBro Les Leek;
– Toast to the Ladies by the WM;
– Toast to the visitors by Bro Mike Powers;
– Competition for the Best Hat, won by Mrs Jenny Mainwaring;
– Competition for the strangest drinking vessel, everybody won that one!
– Loads of great banter which, on the whole, lifted everybody's spirits No end!!

Thanks to all who contributed to a night never to be forgotten!

Below is a screen shot of the assembly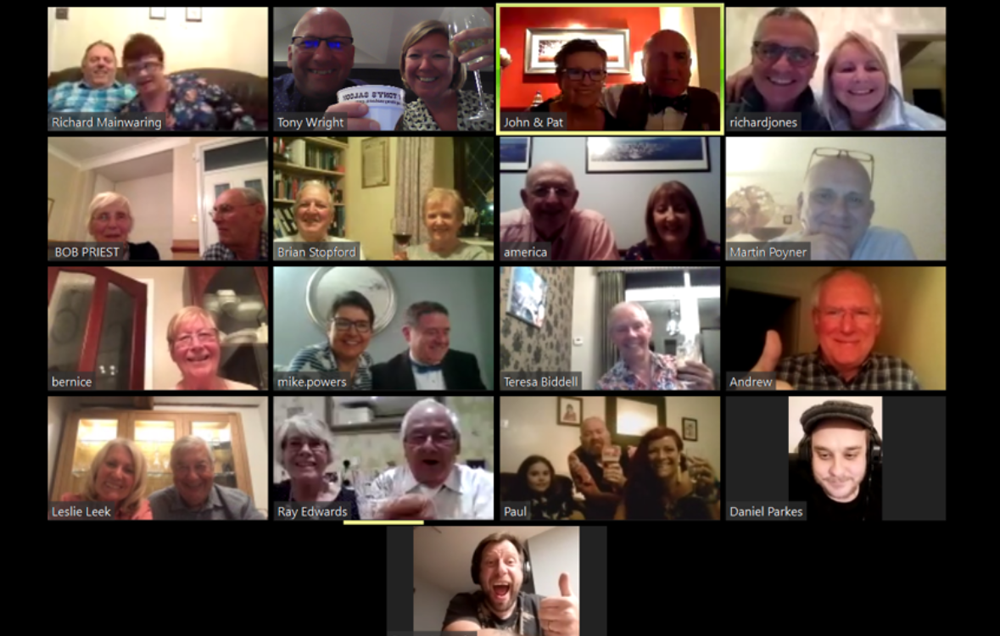 Please note this is not an exhaustive list of activities and may be subject to change.
July 2020 Athol 

members visiting our unofficial twinned lodge in Holland to support their Officers' installation.

  
The 2020 European Masonic Meeting (EMM) is being held in Hamburg and a number of Athol members will be attending.
In 2021 Athol Lodge will be hosting the EMM in Birmingham. This will be a major event with over 100+ Freemasons coming to Birmingham from all over Europe and as far afield as Canada and India.
Provincial AGM in May 2020 when a new PGM is being appointed. 
Athol Social & Fundraisers 2020
A Brother and Athol member intends to cycle from Lands End to John O Groats in 2020 in aid of the MCF  More details and links to follow.
National Freemason & Masonic Festivals.
2020 Masonic Festival – June – Coombe Abbey, Coventry.
Organised by our Provincial Grand Lodge of Warwickshire.


More details

coming soon……